Welcome
It is with a heavy heart..... June 16th will be my last day at AMR. It is that time of year again, and as a Military family we are PCS'ing to Colorado Springs, CO. Once settled, I will be running my business in Colorado Springs. I want to thank everyone for making my stay here in Hawaii memorable and one I will cherish always. Mahalo - See more at: https://www.massagebook.com
profiles
/view/120225/1?preview=1#sthash.ELJUdGA3.dpus)
COVID-19 Massage Safety Protocols
New Location, New Hours, Added Employee
We want to recognize that this pandemic has necessitated many adjustments in the community to preserve the functioning of the healthcare system and reduction in the spread of COVID-19. We are integrating recommendations from our State, the CDC, AMTA, and ABMP massage and licensing boards as well as other professional medical sources.
Before You Arrive:
Now located within the Pavilion Building.

You can enter the main entrance (library), take a left at the hallway, go past the restrooms to the next hallway on the left and we are the first door on your left. If you enter through the door on the left side of the building closest to the Lodge, take a right at the first hallway and we are the first door on your left.
When You Arrive:
During open hours please wait until we come out of the massage room to get you. After our previous client has left and the room and all entry/exit points have been cleaned and sanitized, we will come out to get you.

If you have had any exposure to an individual with COVID-19 in the past two weeks or currently exhibit dry cough, shortness of breath, nausea or vomiting, diarrhea or a new loss of taste or smell, you will need to reschedule your appointment.

It is never a good idea to get a massage if you are suffering from any sickness.

No one other than you, the client, will be allowed in the massage room.
Hours:
Monday: 10:00am - 3:00pm (Linda Rachelle)
Tuesday: 2:00pm – 7:00pm (Suzanne Remington)
Wednesday: 11:00am - 7:00pm (Linda Rachelle)
Thursday: 2:00pm – 7:00pm (Suzanne Remington)
Friday: 10:00am - 4:00pm (Linda Rachelle)
Hours are subject to change
We greatly appreciate your patience and understanding in these hard times, and we will continue to keep you informed and do our best to safeguard your well-being. We look forward to seeing you soon.
Now Available: COLD LASER THERAPY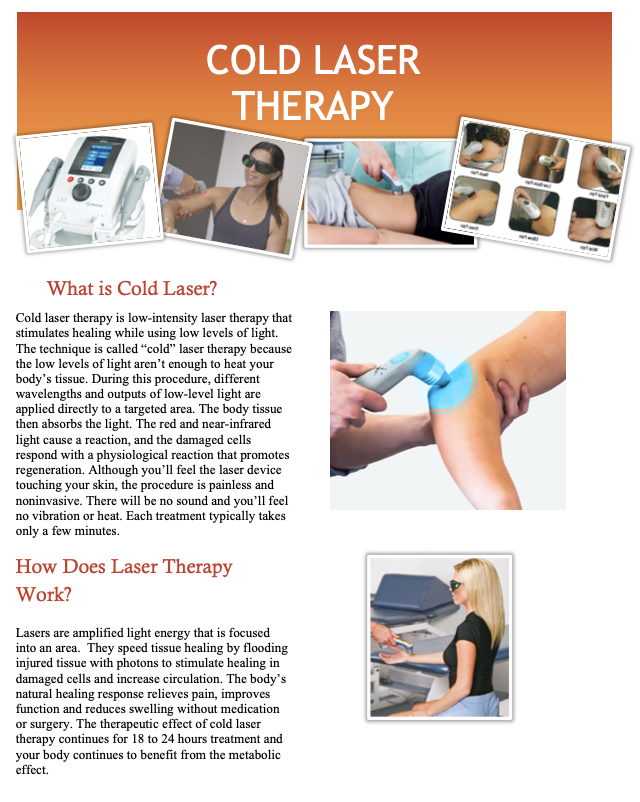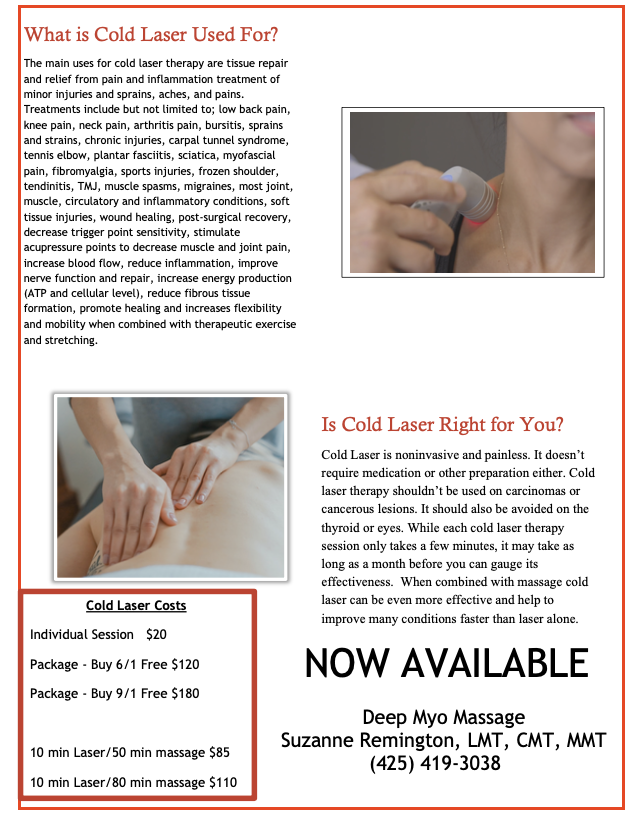 Deep Myo Massage is an affordable practice of bodywork methodology for all ages that address your specific individual needs and assists you in achieving and maintaining an optimal state of wellness through a combination of modalities. I offer a professional experience for a relaxed and balanced body to better handle daily stresses, help improve physical health and sustain a better quality of life.
Whether you are looking to reduce stress and anxiety, relieve muscle tension, recover from an injury or reduce pain and discomfort, you will be provided with the most comprehensive and professional therapeutic bodywork available, encompassing the mind, body, and spirit while enhancing performance, recuperation, and range of motion, while promoting recovery from fatigue and reducing minor aches and pains.
If you'd like to make an appointment, click "Book an Appointment" to go directly to my scheduling site, or you can click on "Contact Me" and leave a message with the best time to reach you to make an appointment and ask any questions you might have prior to your arrival. You can also reach me directly by calling/texting (425) 419-3038 or send me a message on Facebook at www.facebook.com/deepmyomassageclinic
Thank you for visiting Deep Myo Massage, and we hope to see you soon!
What to Expect:
Your session begins with you and your therapist reviewing your medical history by questioning you about your current physical condition, lifestyle, stress level, and any areas of pain and discomfort you are experiencing as well as answering any questions you may have prior to the start of your session.
You will then be asked to disrobe, in private, to your level of comfort and informed how you should lay on the comfortably padded massage table covering yourself with the sheet and blanket provided. You will be professionally draped exposing only the part of your body being worked on at that time with your modesty respected at all times.
During your session, you will experience a full-body or localized therapeutic massage depending on the agreed-upon or prescribed treatment discussed prior to your session. The therapist will apply a variety of techniques that address your particular needs while in the comfort of a calm and supportive environment. Your session will be designed to focus on your well-being and provide you with stress reduction and healing benefits.
It is with a heavy heart..... June 16th will be my last day at AMR. It is that time of year again, and as a Military family we are PCS'ing to Colorado Springs, CO. Once settled, I will be running my business in Colorado Springs. I want to thank everyone for making my stay here in Hawaii memorable and one I will cherish always. Mahalo - See more at: https://www.massagebook.com/profiles/view/120225/1?preview=1#sthash.ELJUdGA3.dpuf